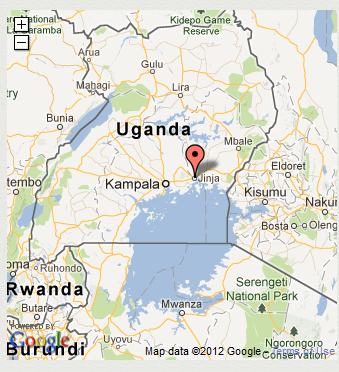 Jinja District is located in the southeastern part of Uganda. It is a small district found east of the Nile River and along the northern shores of Lake Victoria. Jinja District has an area of 767.7sq Km of which 701.9 sq km is land and the rest (65.8 Sq km) is covered by water bodies.
The district is subdivided into 3 counties namely, Butembe, Kagoma and Jinja Municipality. There are 11 Sub-Counties; 46 Parishes and 381 villages. Jinja Municipality has three sub-counties and 55 villages. It is bordered to the east by Iganga and Mayuge districts, to the north by Kamuli district and to the southwest by Mukono district. (Uganda, Republic of 1991).
Previously, Jinja was Uganda's leading industrial town, however the industrial base collapsed in the 1970s and 80s following Idi Amins regime. Jinja's strength has since declined leaving only remnants of industries developed on outdated technology. There are a few industries that have been re-established in the town, but nonetheless it has not helped majority of residents who continue to suffer from endemic poverty with very limited purchasing power or productivity. Jinja Municipality is Uganda's second largest town and is a major economic center in the region, as well an important tourist destination, particularly its white-water-rafting.
WHY SHOULD YOU SUPPORT THE SUFFERING UGANDAN ORPHANS AND WIDOWS?
We understand that as an individual or the member of an organization you are asked frequently to give money. We know that it is important for you that your money is used wisely and effectively. One of the main strength of our projects is that there is very little loss of resources and that you can see clearly the result of your donation. We act directly on the ground with volunteers or paid workers. We don't have to go through bribes, political contributions or else. Our operations are modest and low-key. We are not one of these organizations using brand new $40,000 four-wheel drive vehicle, or staying in fancy hotels with swimming pools, or buying ultimate technology equipment.
A financial contribution of yours can make a huge difference, with results that you can see in the mid-term. You can be an actor in relieving one of the major burdens on the shoulder of Africans. Helping AIDS orphans and widows to access better health care, nutritious food and formal and vocational education is one of the most concrete thing we can do to lifting them out of poverty and thus to giving them more opportunities in the world, which otherwise they wouldn't have.