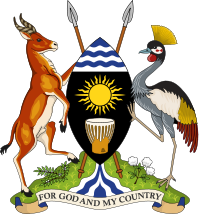 Called "the Pearl of Africa" by Winston Churchill, Uganda is a lush and fertile country. This East African nation is rich in wildlife and natural resources. Slightly smaller than the state of Oregon, Uganda is a landlocked plateau straddling the equator and bordered by Sudan to the north, Congo to the west, Rwanda and Tanzania to the south and Kenya to the east. The country lies in a cradle of mountains and is home to half of Lake Victoria and the source of the Nile River.
The Republic of Uganda is a modern construct of the result of the unification of ancient kingdoms and many smaller independent chieftaincies. In all, Uganda embraces 52 different ethnic groups. Music and dance are integral to each of these cultures, as is a rich tradition of storytelling and folklore. Uganda's population is estimated at nearly 31 million, 50% of whom are under the age of 15. English is the official language. Uganda depends on an agricultural economy with 85% of its workforce engaged in farming, forestry, and fishing — largely on a subsistence basis. Coffee is the main commercial and export crop. Others are fish, cotton, tea, flowers and other horticultural products.
After achieving independence from Great Britain in 1962, Uganda was ruled by two brutal dictators: Idi Amin (1971-79) and Milton Obote (1980-85) who were responsible for the deaths of nearly 1 million people. In 1986, Lt. General Yoweri Kaguta Museveni seized power and established a government that remains in place today. Under Museveni's tenure, Uganda's economy has stabilized, its education improved, and its infrastructure steadily rebuilt.
However, since 1987, the Lord's Resistance Army (LRA) has been engaged in brutal armed rebellion in the north of the country. Operating from bases in the southern Sudan, LRA insurgents have inflicted terrifying violence on the population. In particular, the LRA has abducted tens of thousands of children and at clandestine bases, terrorized them into virtual slavery as guards, concubines, and soldiers. In November 2005, the United Nations announced its intent to increase its activities in northern Uganda in the coming year to help the 2 million Ugandans displaced by Africa's longest running, yet least reported, conflict.
Continued growth and stability in Uganda depends on securing an end to the terrorism in the north, raising the standard of living of its citizens (the average Ugandan lives on US $1/day), assuring greater access to education and healthcare, reducing the national debt, upgrading the country's communications and manufacturing sectors, and continued political and legal reform. However, none of this can be accomplished without addressing the greatest threat facing Uganda today – HIV/AIDS.