[wowslider id="13″]
This website is the online home of Jesus Is Lord Ministries.
We are located in Wairaka Village, Kakira Sub County, Jinja District in Uganda. We are 7km away from Jinja town, near the shores of Lake Victoria Iganga High.
Jesus is Lord Ministries is a faith-based organization, reaching across all the denominations and mainstream religions. Our ministry is motivated by Christ's message of love to the children, "Let the children come to me."
The vision of Jesus Is Lord Ministries is to embrace needy widows and and orphaned children, caring for them and meeting their needs from basic living to their spiritual needs, and to sustainably enrich, support and equip the vulnerable orphans with knowledge, skills and attitude to realize and use their own potentials for their better welfare and that of their communities.
We work, with the help of local churches, donors, sponsors, and volunteers, to restore hope to the AIDS orphaned, vulnerable, homeless orphans and widows who are being left to struggle in the district of Jinja and in Ugandan communities at large.
Why Should You Help to Support the Suffering Widows and Orphans of Uganda?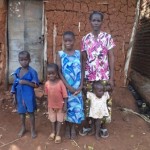 We understand that as an individual or the member of an organization you are asked frequently to give money. We know that it is important for you that your money is used wisely and effectively. Some of the main strengths of our projects is that there is no waste and very little loss of resources, and you can see clearly the result of your donations. We act directly on the ground with volunteers or paid workers, we don't have to go through bribes, political contributions or anything else. Our operations are modest and low-key. (We are not one of those organizations using brand new $40,000 four-wheel drive vehicles or staying in fancy hotels with swimming pools, or buying ultimate technology equipment.) A financial contribution from you can make a huge difference directly into someone's life, with results that you can see as the help is in process. You can help to relieve one of the major burdens on the shoulder of Africans. Helping AIDS orphans and widows to access better health care, nutritious food and formal and vocational education is one of the most concrete things we can do in showing them Christ and in lifting them out of poverty and thus giving them a chance at a good life.
HOW YOU CAN HELP
Become our partner! Get involved with us in a variety of ways and make a lasting impact on the children we serve. Whether you decide to volunteer in Uganda or in your own country or to make a financial contribution – your support is tremendously appreciated.
Partner with JILM
Become a partner with JILM in your own country or area. Volunteers are required at various times going into the villages spreading the word of God and showing the love of Jesus.
Please select from the links at the top of the page and on the right and start helping the HIV/AIDS victims, widows and orphaned children of Uganda today!
Click here and sign up to help.
You Can Pray
We are a Christian Charity so we would like for you to join us in praying for a solution to the crisis. We have real confidence when we approach the Father in Christ's name, knowing that He is able to do immeasurably more than all we ask or imagine, according to his power that is at work within us (Ephesians 3:20, NIV).